West Jersey Astronomical Society www.wasociety.us
Welcome to the Official Home Page of the West Jersey Astronomical Society (additionally known as the Willingboro Astronomical Society). Our club is in its 56th year of serving both the public and the amateur astronomers of the Delaware Valley. We have a long history of public education, star parties, interesting meetings, in-depth training and experienced leadership. We are a 501(c)(3) tax-exempt organization. Click here for membership information, including a PayPal link to pay dues (click here to make a separate donation). Members in good standing have access to the gated Barnegat Road Observing Site in the dark New Jersey Pines, while Atsion Field in the Pines is available to those with valid membership cards.
Announcements Last Update: Friday, February 10, 2023
Photo Spotlight Images posted 1.24.2023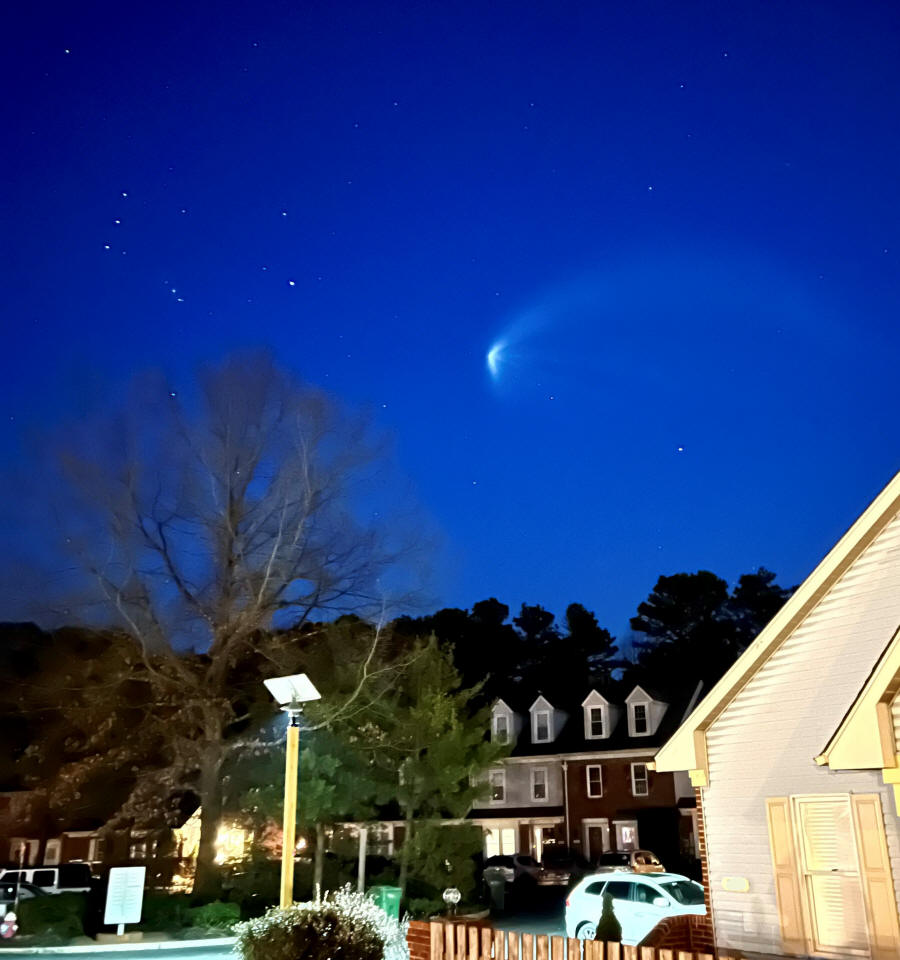 Club member Neil Pober used an iPhone 13 from his home in Marlton, NJ, to capture this image of the Electron Rocket exhaust plume after it was launched from Wallops Island, VA, at 6:00 pm EST on January 24, 2023. Several other members were able to observe the spectacular plume as it crossed the sky to the south, then arcing under the constellation Orion (in the upper-left corner here) before disappearing over the southeastern horizon.
Click here for the previous home page image.
Sky & Telescope's This Week's Sky at a Glance, February 10 to 19, 2023. The USNO's The Sky This Week, February 8, 2023.
Click to contact the . Members are encouraged to submit their astronomical images to the webmaster for inclusion on the WAS Home Page. Be sure to include a description, date and time, as well as equipment and photo data.
Astrospheric Forecast for the Barnegat Road Observing Site

Star & Constellation Pronunciation Guides (updated Sept 7, 2022)
Lunar X Predictions (UT)
United States Naval Observatory, Astronomical Applications