West Jersey Astronomical Society www.wasociety.us
Welcome to the Official Home Page of the West Jersey Astronomical Society (formerly known as the Willingboro Astronomical Society). Our club is in its 51st year of serving both the public and the amateur astronomers of the Delaware Valley. We have a long history of public education, star parties, interesting meetings, in-depth training and experienced leadership. We are a 501(c)(3) tax-exempt organization. Click here for membership information (dues can now be paid through PayPal).
Announcements Last Update: Monday, December 31, 2018
| | |
| --- | --- |
| Dec 22 | Full Moon at 12:49 pm EST in northern Orion. |
| Jan 3 | Earth at Perihelion, 12:20 am EST, 0.983301252 au (91,403,562 miles) from the sun. |
| Jan 4 | Formal Meeting, 7:30 pm at the Virtua Health and Wellness Center in Moorestown, NJ. As always, guests are welcome and no astronomical experience is necessary. Use the Main Entrance and check with the security guard who will direct you to the conference room. Here are the minutes from the December 21 meeting. |
| Jan 5 | New Moon at 8:28 pm EST in Sagittarius. |
| Jan 8 | Astrophotography Meeting, 7:00 pm at the Virtua Health and Wellness Center in Moorestown, NJ. Dan McCauley will present Building a High Performance Camera Lens Astrophotography System for Narrowband and Broadband Imaging. |
| Jan 17 | Informal Meeting, 7:30 pm at the Virtua Health and Wellness Center in Moorestown, NJ. Note: Beginning with this meeting, informal meetings in 2019 will be on the third Thursday of the month. |
| Jan 21 | Full Moon at 12:16 am EST in western Cancer. There will be a total lunar eclipse, the entirety of which will be visible in the Philadelphia area. The moon enters the umbra at 10:34 pm EST on Sunday, January 20 and totality begins at 11:41 pm. Maximum eclipse is at 12:12 am on January 21. The moon leaves the umbra at 1:51 am. |
Photo Spotlight Image posted 12.22.2018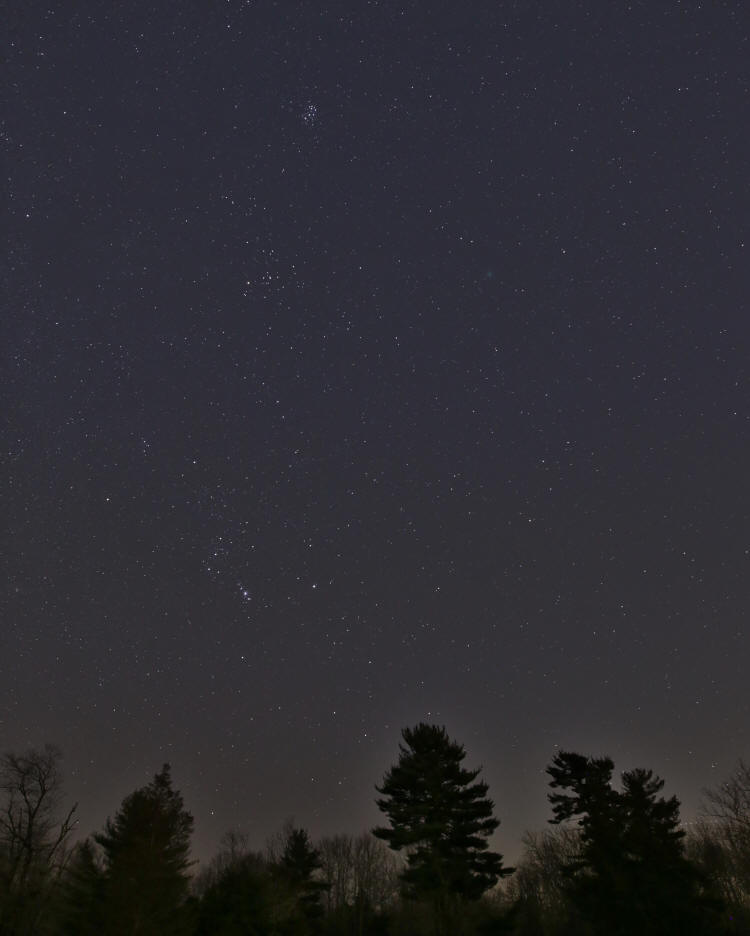 Club member Joe Stieber captured this image of the "Christmas Comet," 46P/Wirtanen on December 11, 2018, during a WAS Member Star Watch at Atsion, in Wharton State Forest, NJ. Taken at 8:56 pm EST with a Canon 6D digital SLR camera (on a fixed tripod) and a Sigma 20 mm f/1.4 Art lens. Exposed 13 seconds at f/2.8, ISO 3,200, 3,800 K white balance. It was cropped to an 8x10 ratio, yielding a field 62° wide x 73° high. At the time, 46P had reached visibility with unaided eyes, but only barely, and only from a dark site. It remains so as of the current date, but is visible in binoculars, even from the suburbs. Here's a finder chart. Mouseover for labels.
Election Results for the 2019 WAS Officers.
In Memoriam
Bernie Kosher, a longtime member of the Willingboro and then West Jersey Astronomical Society, passed on September 4, 2018. He was a highly valued member of the club and a good friend of all the members who knew him. He will be very much missed (see our tribute page). The Bucks-Mont Astronomical Association has established The Bernie Kosher Scholarship Fund for accepting donations.
Click here for the previous home page image.
Click to contact the . Members are encouraged to submit their astronomical images to the webmaster for inclusion on the WAS Home Page. Be sure to include a description, date and time, as well as equipment and photo data.
USNO Solar System Object Apparent Disc
Star & Constellation Pronunciation Guides
Old SOHO Link Alternate SOHO Link